I am truly honored to be a Dave Ramsey Endorsed Local Provider (ELP).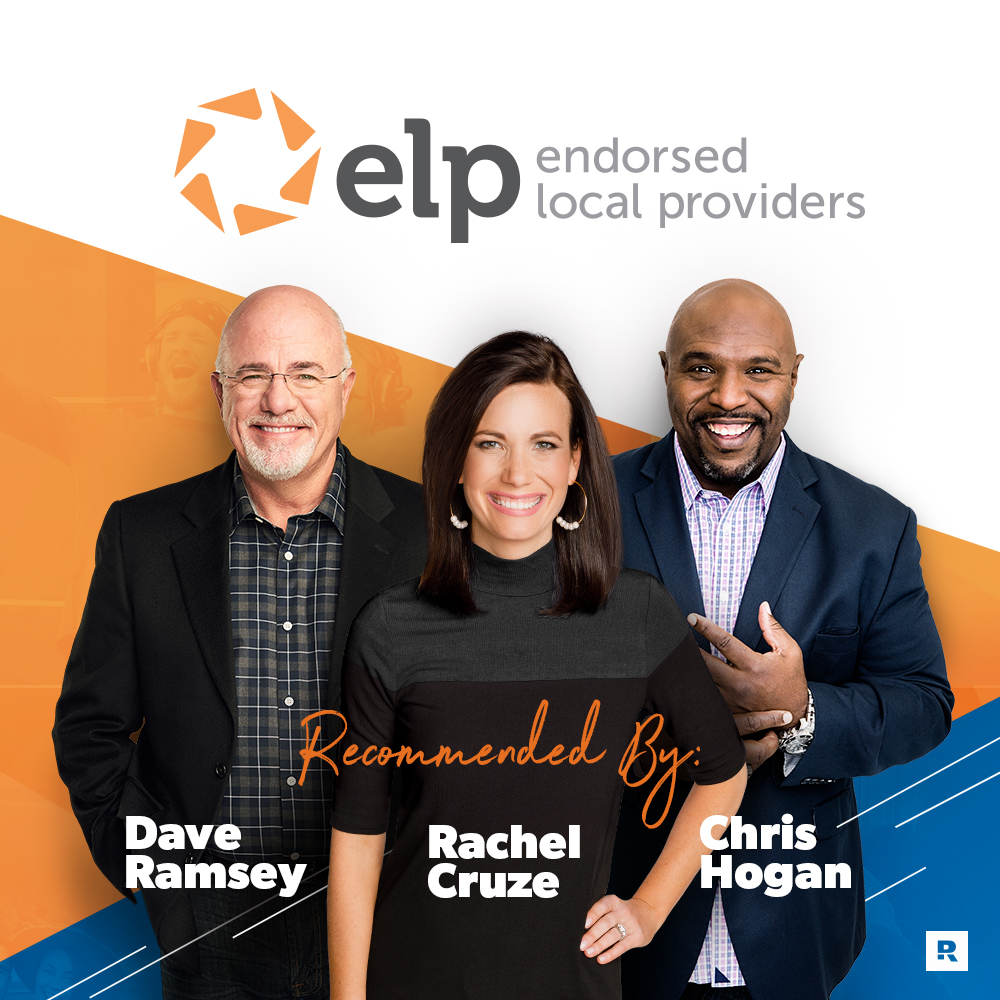 Dave Ramsey is the reason I'm in Real Estate. In 2007, driving cross country for work - deeply in suffocating debt, desperately missing my family, traveling incessantly to barely scrape by - I stumbled across The Dave Ramsey Show on the radio. Immediately, the Baby Steps made sense to me, and I was confident it was an easy enough plan my wife I and could follow it! I have been an ardent follower and have practiced Dave's financial principles religiously since.
Over the next four years, while listening to thousands of hours of The Dave Ramsey Show, and following the other teachers and mentors Dave introduced me to through his show, we worked hard, and we continued to hammer away at our staggering six-figure debt load, until we paid off Every. Single. Penny. Today, we are able to "live and give like no one else!" because of Dave Ramsey.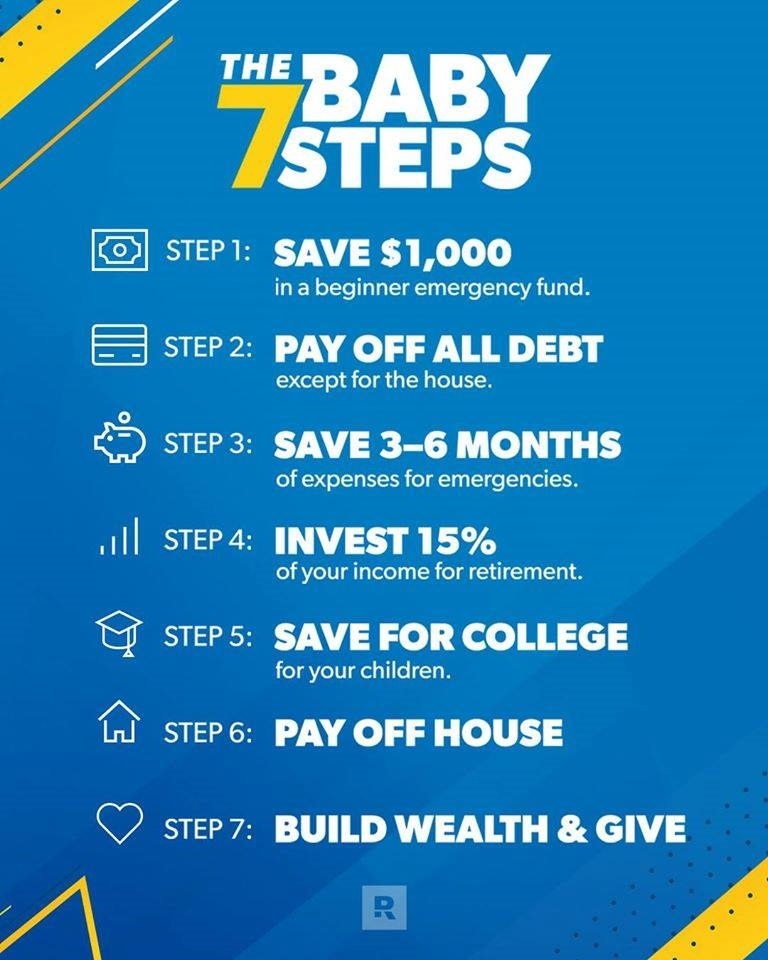 I knew I wanted to be a Dave Ramsey ELP in Real Estate before I even had my license. Ultimately, I knew I wanted to help others by sharing the "Baby Steps," and Real Estate is a natural segue for that conversation. Whether buying or selling a home as a residence or as an investment, a home sale/purchase is often the single largest financial transaction someone will conduct in their lifetime. When we began our journey to Financial Freedom I learned Dave's philosophy is that "Those who don't manage their money will always work for those who do," and it forged my resolve to start my own Real Estate business.
In 2014, I was proud to launch my Real Estate career without taking on any debt because we had been telling "our money where to go instead of wondering where it went" for so many years. Today, Brill Team operates 100% debt-free and employs four full time staff members, paying it forward to other families.
So, as an ELP, I don't just talk the talk - I walk the walk. We care more about you than any sale or commission check, and share the same values as one of the most trustworthy "brands" in America.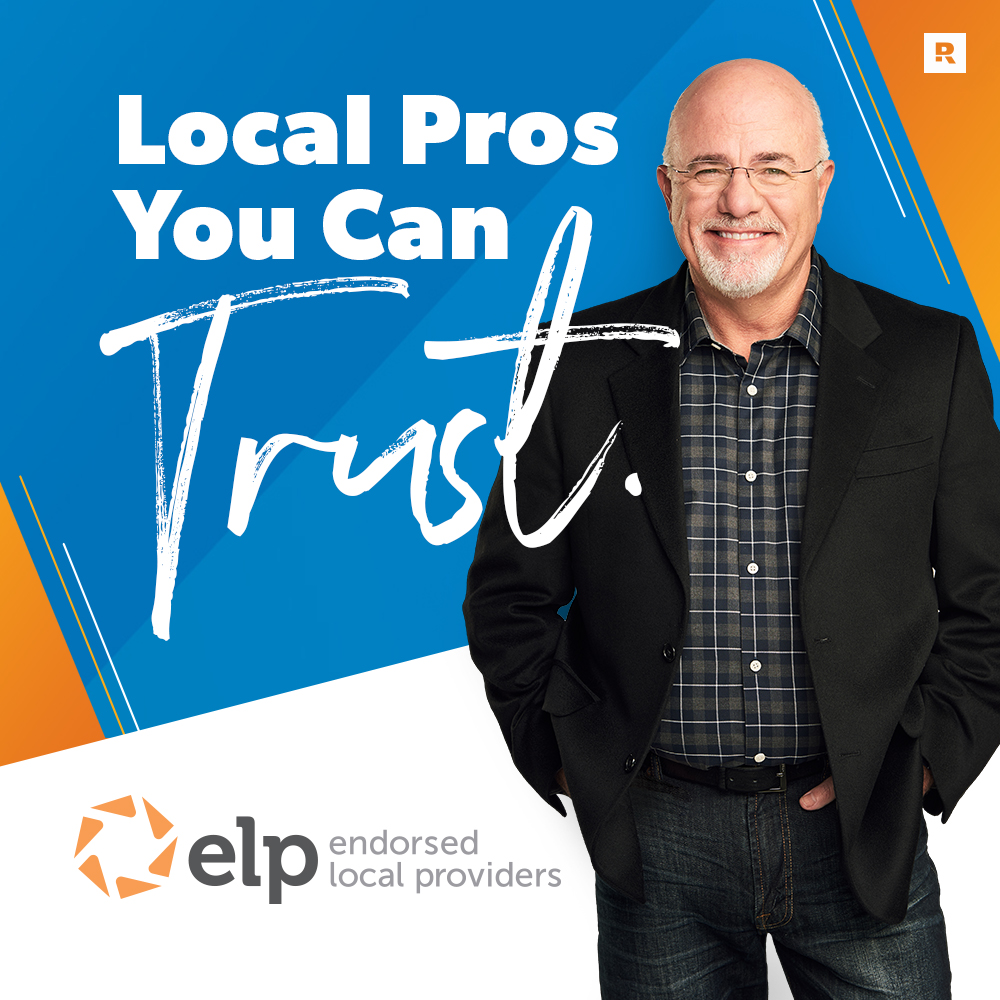 Dave only recommends only a handful of carefully selected, pre-screened, elite Realtors he considers "high protein/high octane" - agents that sell more homes than 90% of the other agents in their market. However, more important than the numbers, Dave's team interviews and scrutinizes each applicant to ensure any ELP endorsed by Dave Ramsey truly possess the heart of a teacher, not of a salesman. The ELP designation is a demonstration of confidence that I will guide our clients with the same values & advice Dave Ramsey would give.
About Dave Ramsey: Dave Ramsey is a nationally syndicated radio host that has more than 12 million daily listeners on 575 radio sta
tions. His mission is to get people out of debt, to live on less than they make, and become outrageously generous. With such a platform and
such a clearly defined mission, he only endorses the absolute best real estate professionals that exceed the intense & rigorous standards of excellence set forth by him & his team.
To learn more visit https://www.daveramsey.com/elp

Testimonials
" I am so impressed with Nate and Rachel. They were absolutely the very best team I could have worked with to sell my Phoenix home--in just 14 days!! Nate kept me so informed with a constant analysis of neighboring pricing and sales while Rachel literally took care of all the never ending paperwork. They were wonderful and will always recommend them to any of my friends who are thinking of selling! Thanks Brill Team!!! "
- Madlyn G. | Phoenix, AZ
" There aren't enough words to describe how amazing Nate and his ENTIRE team were through the whole process of buying our new home! We felt informed and advocated for throughout the entire process. From the moment we met him through him handing us our keys, it was such a smooth process. We are forever grateful for Nate, his team, and this whole experience. We are walking away from this truly feeling like not only did we get a great house but a great friend as well. Thank you Nate, Rachel, and everyone else who we had the pleasure of working with. "
- The Minsky Family | Peoria, AZ
" I have had experience buying and selling a home with the Brill team. Nate and his team are an absolutely wonder to work with! He navigated this roller-coaster market with ease. I was kept up-to-date through the whole process and they were very reachable! I could thank them enough for all they have done. I will defiantly be using them for all of my buying and selling needs! Thank you so much Nate and Rachel! I am looking forward to the next time we have the chance to work together. You guys really knock my socks off! "
- Destany Johnson | Surprise, AZ
" We recently found ourselves selling our home rather unexpectedly. After our initial meeting with Nate, we felt confident that we would be in excellent hands with his team. The Brill Team turned an uncertain and intimidating situation into a stress-free, comfortable home sale journey. We went under contract super fast, and for more than our asking price. You can tell that this is more than just a job for Nate. He really cares about his clients! If we ever buy or sell in the area again, we will definitely be working with Nate! "
- The Parisi Family | Peoria, AZ
" Nate was awesome. Walked me through the process and discussed the comparables in order to decide on a fair listing price. It sold in 4 days for the full asking price. He kept in touch on a regular basis to keep me apprised of the status of the sale and made sure there were no unanswered questions. The whole process couldn't have gone better. "
- Gail Gley | Peoria, AZ
" Nate and his team are highly professional and make home buying an easy process. We were looking for a property in Arizona even though we live in another state, Nate would setup an appointment with himself or his assistant Rachel to view any properties we were interested in. Despite the challenges of a competitive housing market Nate was able to find us a property that fit our criteria and we were able to agree on a price without it being listed. I thank Nate and his team for answering our nonstop questions and for making home buying a pleasant experience! I highly recommend his team to anyone that is looking for a knowledgeable, caring and dedicated professional who will work for you tirelessly to find the property that fits your specifications! "
- Steve Wilson | Surprise, AZ
" Nate is an amazing realtor! He is very knowledgeable about the Phoenix area and knows the current trends to help you as the buyer or seller make an informed and educated decision about a home. Definitely would recommend him to anyone looking to buy or sell. "
- The Millers | Surprise, AZ
" Nate was prepared from the very first meeting. Nate was able to anticipate my questions and was engaged from the very beginning, making sure to address my questions with professionalism, patience and respect. Nate and his entire team went above and beyond in making me feel informed and it was impressive how responsive everyone was to even the most minor of questions. I feel truly so lucky to have been able to work with Nate. Buying or selling a home is so stressful but every time I got on the phone with Nate, he instantly took the stress away because he was prepared for every conversation and tried to anticipate all of my needs and he is sincerely passionate about what he offers his clients. I was so impressed that I referred my parents to Nate and his team and they have had an identical experience as me. You will get superior client service and representation whether you are listing or buying. I would highly refer Nate and his team, without any doubt!!! Thank you Nate, Krista, Rachel and Nancy for everything!!!!! "
- Heidi L. | Peoria, AZ
" Working with The Brill Team was a phenomenal experience. Not only are they very knowledgeable but they are down to earth, funny, and great to be around. I highly recommend that anybody looking for a realtor choose Nate. In fact, if I ever buy another house I'm only working with Nate and his team. "
- Regina & Todd Golding | Gilbert, AZ
" I've sold a few houses now and worked with a lot of realtors. Nate and his team by far were the most organized, well planned, knowledgeable, trustworthy and all around best people I've worked with to date. I can't tell you enough how myself and my wife would be happy to recommend him and his team to you and your family. Especially if you live in the #northlands community. From start to finish it was truly just sooo easy to work with them and we look forward to working with him again in the future. Thank You Again! "
- Josh & Ashley W. | Peoria, AZ
" First off I'm a first time homebuyer and was very intimidated on how to begin the home buying process. I called up Nate and expressed this and my timeline of when I wanted to buy a home. He broke down when the best time would be to start looking and then get serious about finding the home for me. Nate also helped me with finding financing when my finance company just wasn't cutting it. His assistant Rachel was also very responsive and receptive with any concerns I had. I had a problem with my home a few days before closing and she let the sellers know immediately and it was taken care of very quickly. She also would give me updates very often of what was going on so I was never guessing what was going on. Overall Nate and his team were great to work with and gave me a top notch home buying experience. "
- Caleb Lofton | Surprise, AZ
Previous
Next